Welcome
Thank you for your interest in the Complex General Surgical Oncology Fellowship at the Roger Williams Medical Center, which was one of the original SSO approved programs and one of the first to receive ACGME accreditation in 2013.
This website contains information about our educational program, faculty, staff, and outcomes research program. All of our specialists completed Surgical Oncology fellowships in SSO approved programs and as program director, I have dual board certification in general surgery and Complex General Surgical Oncology. To be part of the first group of CGSO board certified surgeons has allowed me to design an educational curriculum to ensure our fellows obtain their board certification upon finishing our program.
We emphasize the multidisciplinary management of complex upper abdominal malignancies. In addition, we have dedicated programs for breast and head and neck cancers. Roger Williams also serves as a regional referral center for hepato-bilio-pancreatic pathologies and sarcomas.
There are opportunities to participate in population-based research in our robust Geriatric Surgical Oncology and Cancer Care Disparities research programs.
Thank you,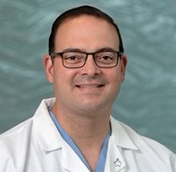 Abdul Saied Calvino, MD, MPH, FACS
Program Director, Complex General Surgical Oncology Fellowship