CHARTERCARE ANNOUNCES GIFT TO RI COMMUNITY FOOD BANK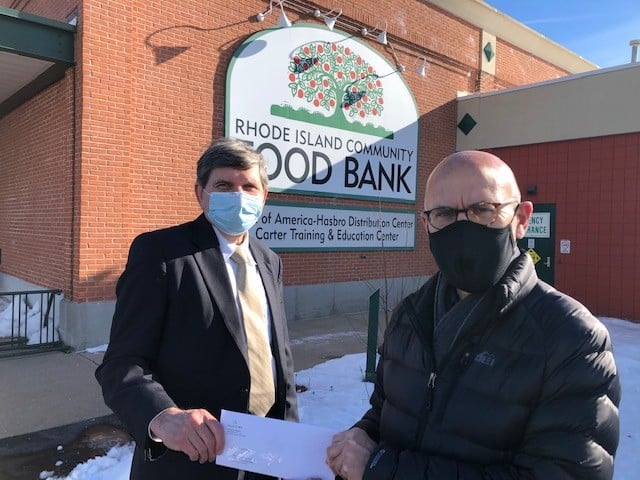 (L-R: CharterCARE CEO Jeffrey Liebman with RI Food Bank CEO Andrew Schiff)
On behalf of its more than 2,800 employees, CharterCARE Health Partners has made a holiday donation to the RI Community Food Bank in the amount of $5000.
Each year, with the support of its corporate parent, Prospect Medical, CharterCARE makes a donation at the end of the year to a deserving local charity.
"Our hospitals, Roger Williams Medical Center and Our Lady of Fatima Hospital, know all too well the devastating impact the coronavirus has had on so many," said CharterCARE CEO Jeffrey Liebman. "We are proud of our frontline staff who have cared for more than 850 COVID admissions since the onset of the pandemic. But we also know the impact this virus has had on people who, in addition to trying to stay safe and healthy, struggle to feed their families and themselves."
Before COVID, the RI Community Food Bank was serving about 54,000 people each month but it is now serving over 68,000 people per month. Food Bank officials indicate that that the need is continuing to grow at an alarming rate.
"That is a disturbing trend but Rhode Island is fortunate to have the resources of the Community Food Bank and its member agencies who collaborate to help meet the demand," added Liebman.