Diagnostic imaging at RWMC plays a critical role in giving physicians a clearer idea of what is going on inside your body to determine the best course of treatment. Many medical conditions and ailments are only visible with the use of advanced imaging tools. The Diagnostic Imaging Department at Roger Williams is known for the high quality of both our staff and the images we deliver. The quality of our work is confirmed by accreditations from organizations like the American College of Radiology.
Using the latest tools, our experienced team works to ensure tests are performed efficiently with accurate results. The Diagnostic Imaging Department provides a full range of high quality medical imaging services including Radiology, Mammography, Ultrasound, MRI, Interventional Radiology, CT Scan, Nuclear Medicine (including cardiac, diagnostic & therapeutic), Vascular Laboratory, and PET (through RI PET, LLC). Our center combines high resolution imaging and fast scanning times with a wider, more open unit design. That means you feel less confined and more comfortable during the testing.
We offer 24-hour result turnaround time, same day scheduling, and evening appointments. Our team is committed to working with your health care providers by providing the clearest, most accurate diagnostic results. Your health is rarely in the hands of a single medical professional. It takes a team collaboratively focused on positive outcomes.
DIAGNOSTIC IMAGING SERVICES
CT Scan:
Hours: Monday - Friday, 7:00 a.m. - 5:00 p.m.
After hours and weekend appointments available upon request
Phone: 401-456-5701
Radiology:
Hours: Monday - Friday, 7:00 a.m. - 4:30 p.m.
Phone: 401-456-5701
Ultrasound:
Hours: Monday - Friday, 8:00 a.m. - 4:30 p.m.
Phone: 401-456-5701
Mammography
Hours: Monday - Friday, 8:00 a.m. - 4:00 p.m.
Phone: 401-456-5701
MRI:
Hours: Monday - Friday, 7:00 a.m. - 5:00 p.m.
Phone: 401-456-6885
Nuclear Medicine: Including bone scan, myocardial perfusion, tumor localization, MUGA, lung, liver function, thyroid and renal scans
Hours: Monday - Friday, 7:00 a.m. - 4:30 p.m.
Phone: 401-456-5701
Interventional Radiology: Including angiography, embolization, stents, uterine fibroid embolization, and kyphoplasty
Hours: Monday - Friday, 7:00 a.m. - 5:00 p.m.
Phone: 401-456-5390
Vascular Lab:
Hours: Monday - Friday, 7:30 a.m. - 4:00 p.m.
Phone: 401-456-5701
RI PET SERVICES
Rhode Island PET Services, LLC is a consortium of leading healthcare providers in the state of Rhode Island. Serving the state of Rhode Island, their PET-CT center provides PET/CT services 6 days a week, enabling a wide geographical reach to all parts of the state.
Learn more at ri-pet.org.
Endobronchial Ultrasound (EBUS)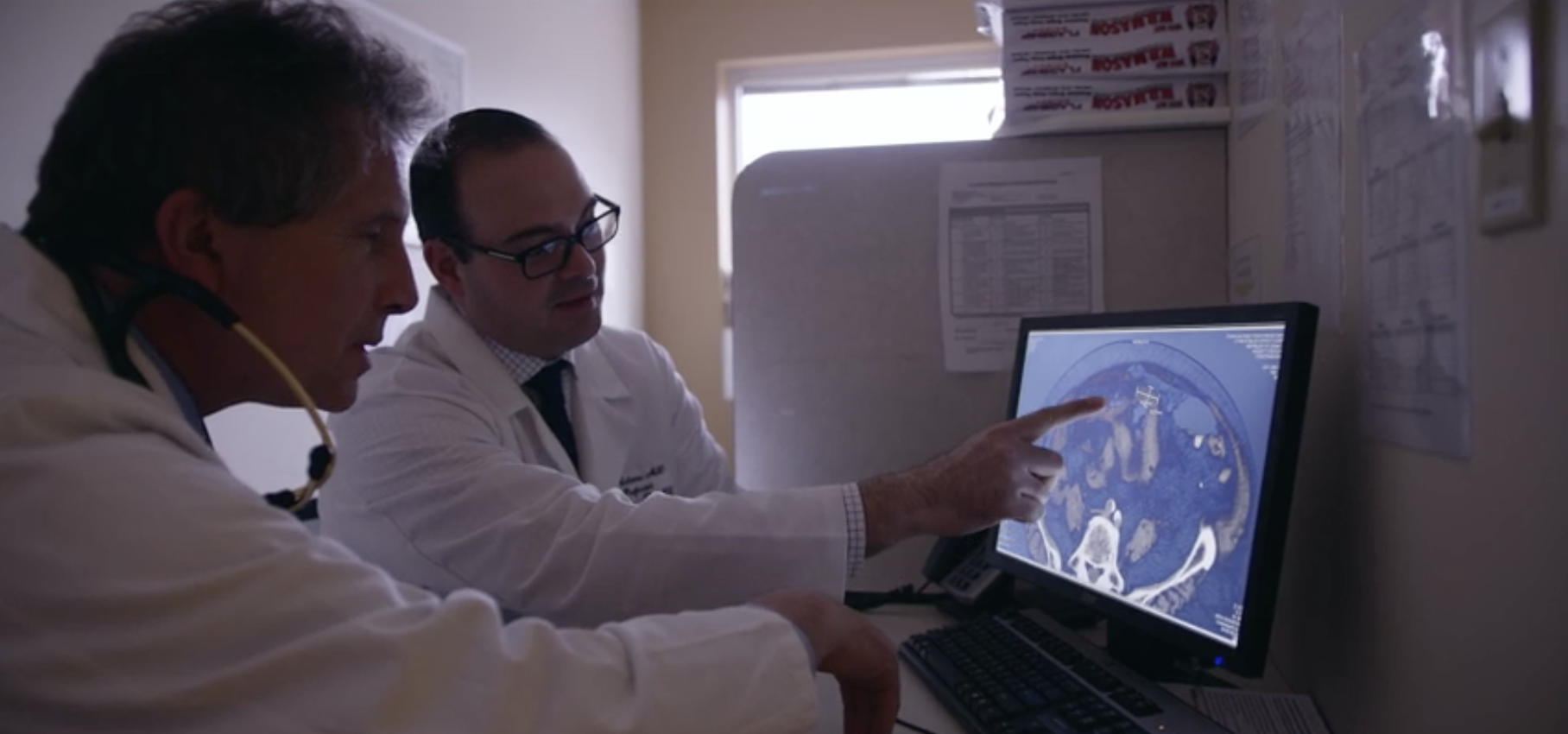 Endobronchial Ultrasound (EBUS) is a relatively new procedure used in the diagnosis of lung cancer, infections, and other diseases causing enlarged lymph nodes in the chest. Since 2013, we have been proud to be one of the few centers in New England to offer EBUS, a minimally invasive procedure that has proven highly effective.
What is EBUS Used For?
EBUS allows physicians to perform a technique known as transbronchial needle aspiration (TBNA) to obtain tissue samples from the lungs and surrounding lymph nodes without conventional surgery. The samples can be used for diagnosing and staging lung cancer, detecting infections, and identifying inflammatory diseases that affect the lungs, such as sarcoidosis or other cancers like lymphoma.
The Two Types of EBUS: Linear and Radial
Linear EBUS is a minimally invasive procedure used in the diagnosis of mediastinal masses, central lung masses and enlarged mediastinal lymph nodes from benign and malignant diseases. EBUS is also used in mediastinal staging of lung cancer. Dr. Rabih El-Bizri, Director of Bronchoscopy, performs the procedure at Roger Williams with occasional assistance from Dr. Jody Meharg.
During the Linear EBUS procedure, a special bronchoscope fitted with an ultrasound transducer is introduced through the mouth into the airways. The EBUS allows real-time visualization of Lymph nodes and masses in close contact with the airways. Once the physician locates the lymph node or the mass, the physician can perform real-time EBUS guided needle aspiration to obtain a sample without having to make any incisions.
Radial EBUS enables access to peripheral pulmonary nodules or masses not accessible by regular bronchoscope. This type of EBUS is performed by inserting an ultrasound miniature probe through the instrument channel of a standard bronchoscope to assist in finding the location of the tumor. After locating the mass or nodule, a biopsy is performed under fluoroscopic guidance.
Both types of EBUS are performed under general anesthesia or conscious sedation in an outpatient setting. The sample is analyzed by onsite cyto-pathologist who provides immediate feedback on the specimen.
What Makes EBUS Different Than Mediastinoscopy?
EBUS is a minimally invasive procedure that does not require a surgical incision in the neck. EBUS can access more lymph node stations than Mediastinoscopy and the rate of complications is lower with EBUS than Mediastinoscopy.
Why You Should Consider A Referral For EBUS
Referral for EBUS is indicated when patients require the least invasive diagnostic modalities and to minimize the number of invasive procedures. For example: If a patient has a lung mass and mediastinal lymphadenopathy, combining the Linear and Radial EBUS would provide a diagnosis and mediastinal staging during the same visit.
The Endoscopy staff at Roger Williams is experienced and competent in both EBUS and Endoscopic Ultrasound. If your physician believes you may benefit from EBUS, please have them call 401-456-5714 and speak with Sandra to schedule an appointment with Dr. Rabih El-Bizri.